Albino Hedgehog
From Animania
~~" Albino Hedgehogs are rodent that can be found in forest biome. Their famous relative is the Sonic! The Albino Hedgehog looks like a ball with spikes. We can identify Albino Hedgehog from Common
Hedgehog
by the colour of eyes and skin. Unlike common hedgehogs, Albino Hedgehogs share white skin and pink eyes.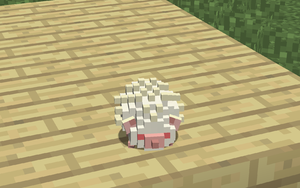 Spawning/Habitat
Behaviours
They drink from troughs, rivers, ponds or artificial lakes.
Attack small animals like chicks, chickens and frogs.
Eat eggs from nests
Food
Favourite food: Veggies(Apple, Carrot, Beetroot), Meat(Raw Chicken and Raw Rabbit), Egg(All chicken eggs and peacock eggs)
Taming
Use their favourite food to tame them!
Interaction
They can be picked up on your shoulder by shift+right clicking.
Placing them down by shift + right clicking.
By simply right clicking on your tamed ferret, you can order them to sit or get up.
Breeding
Unable to be bred at the moment
Drop
No drop currently
Only xp